This article provides tips and tricks on getting sap off of your tent.
How to Clean Sap off Your Tent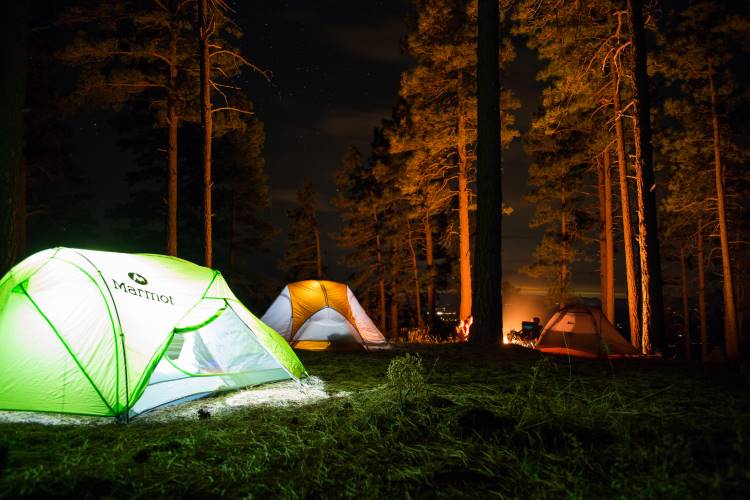 If you're coming back from a few days in a pine forest, you might really be dreading the thought of cleaning off your gear. Thankfully, it's not actually as bad as you might think.
How can sap be cleaned off a tent? Sap can be cleaned off a tent by using mineral oil and a sponge. Rub the sponge gently on the tent fabric and the sap will melt off. Always test a small area first to make sure that the material doesn't degrade or stain.
It's really not terribly complicated, but I do have some extra tips that are worth hearing about.
There are also a few really great (and important) products that will help protect your gear after washing off the sap. I'll get into how you can protect your tent after washing it at the end of this post.
Note: DO NOT use regular detergent, as this will be almost guaranteed to remove the Durable Water Repellency (DWR) of your tent.
Cleaning Sap with a Sponge and Mineral Spirits
This is just about the most effective, simplest way to get rid of smaller amounts of sticky sap. The mineral spirits are generally safe for the tent, as long as you don't scrub more than you need to.
Definitely don't use a brush, since this will be really hard on your tent. A sponge or a soft cloth is ideal.
Also, don't douse the tent in mineral spirits. Just use enough to keep the sponge wet. The mineral spirits need to be able to evaporate quickly.
The main thing to watch out for is that any type of cleaning can break down the protective coatings on the tent fabric.
After using ANY cleaning products on your tent, be sure to rinse the fabric THOROUGHLY with water (unless directed otherwise on label).
No coatings will last forever. Your tent has a lifespan. Eventually, it will have a harder and harder time staying waterproof,
No matter what kind of products you use, they will pretty much all put serious wear and tear on the coatings UNLESS they are specifically designed to maintain them.
There are a few good products out there that I think are worthwhile.
Removing Serious Amounts of Tree Sap
If your tent has been attacked with big globs of sap, here's an easy hack to remove the large bulk of it:
Put your tent in a freezer overnight.
Obviously, a large 16-man tent might not fit in your freezer, but if you can make it work this is a great solution.
After a night in the freezer, the sap will be hard and you'll be able to pick it off. Whatever else is left over can be handles wither with a plastic scraper or with mineral spirits.
Alternative Cleaners for Tree Sap
There are hundreds of products recommended for tree sap removal, but honestly I've had pretty unimpressive results with a lot of them.
So I'm not even going to bother with the ones that "kinda" work.
One thing that IS worth trying though is alcohol-based wipes. They're so handy that it's worth bringing a pack with you so that you can spot-wash your tent (and just about anything else) before you pack up.
I wouldn't recommend using these if you have a ton of sap all over your tent, though. This is more practical for a bit of spot-cleaning. Otherwise, you'll go through a ton of them in no time.
Really convenient, though.
Protecting Tent Coatings and Waterproofing
A cleaning or two with an alcohol-based cleaner generally won't cause too many problems. It's great for removing spotches of sap, but there's a lot of sensitive technology that's at work in your tent.
If you want to take good care of your gear, I'd really recommend using a product that won't wash away the existing treatments. Add a protector after the wash, and you're off to the races.
If you want something tried-and-true, then there are two products that you need to get:
Nikwax Tent & Gear Solarwash to clean your tent (also effective for other gear)
Nikwax Tent & Gear Solarproof to protect your tent (again, also works on other gear)
The reason that you need this stuff instead of all the other cleaners out there is that this stuff is also effective for UV blocking AND waterproofing.
Your tent is not the same as the rest of your gear. It needs to stand up to a lot of abuse from, not only the rain, but also the sun.
Sunlight degrades tents, and they'll eventually start leaking and turn to junk. After a couple of months, your tent will be more vulnerable to tears.
This is especially true if you use regular cleaners or generic waterproofers.
The downside of these products is that they're only mediocre for cleaning off sap. That's why I recommend first spot washing with mineral spirits, then Solarwash, then apply the Solarproof.
If you wash and protect your tent with these products, your tent will be reliable in just about any kind of weather.
Note: If you have leaks coming in through the seams, a regular waterproofer will NOT fix that. You need a seam sealer, like this one from Gear Aid.
Found at https://www.wildernessroamer.com/how-to-clean-sap-off-your-tent/